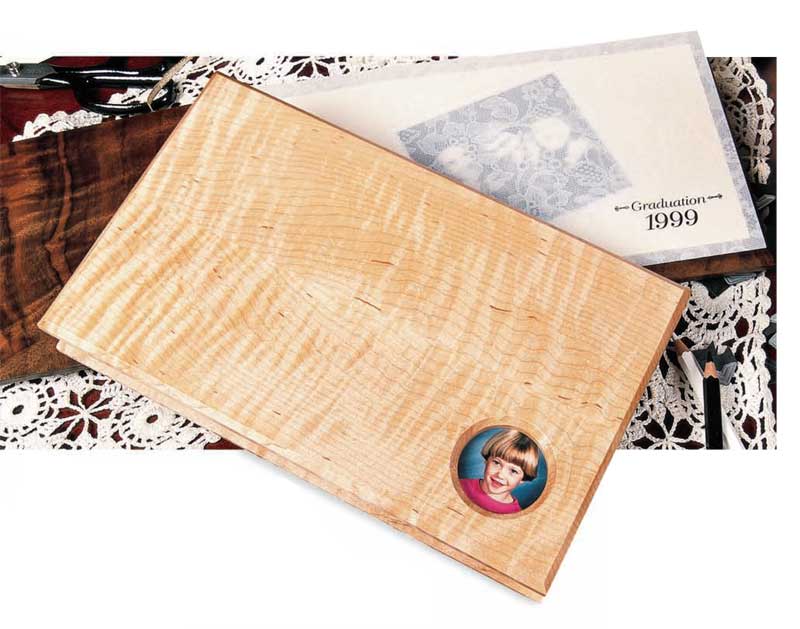 Photo Album
By Dave Munkittrick
Do you have a pile of photos waiting to be put in an album? We all do. That's why you can't go wrong making these distinctive photo albums for yourself or as gifts.
Figured wood makes an attractive cover.The first album in the photo was made from a 3 in. x 20 in. piece of tiger maple and the second from a single 6 in. x 10 in. piece of walnut.You can make larger covers (12-1/2 in. x 12-1/2 in.), but they are more likely to warp. The walnut was resawn to make front and back covers. The maple was resawn and glued up to create book-matched covers.
The 9-1/4 in. x 5 in. acid-free paper pages come pre-drilled and are available from Anchor Paper, 800-659-2127, #ZR301-213. The 2 in. x 24 in. continuous hinge and the brass barrel bolt connectors and screws are available from Van ***'s Restorers, 800-558-1234; barrel bolts, #AF-S1572; hinges, #AF-S6167; #4 x 1/4-in. screws, #AF-S4739F.
How to Make It
1. Surface the covers to about 1/4 in. and chamfer the outside edges. (Optional: Use a 1-1/2-in. hole saw to cut a circular frame in the cover.)
2. Sand and finish. We used a sealer coat of Super Blonde Shellac followed by two coats of water-borne polyurethane.
3. Cut two 4-in. lengths of hinge (two 11-in. lengths for 12-1/2 in. x 12-1/2 in. covers) for each album and file a radius on the corners.
4. Use the pre-drilled paper as a template to drill two 1/4-in.holes in one leaf of each hinge. File any rough edges smooth.
5. Drill two 5/64-in. pilot holes 5/8-in. in from the back edge of each cover. Mount the hinges to the cover with #4 screws. (Nip off the ends of the screws if your covers are 1/4-in. thick or less.)
6. Bolt the loose leaves of the hinges through the paper with the barrel bolts; add photos and enjoy.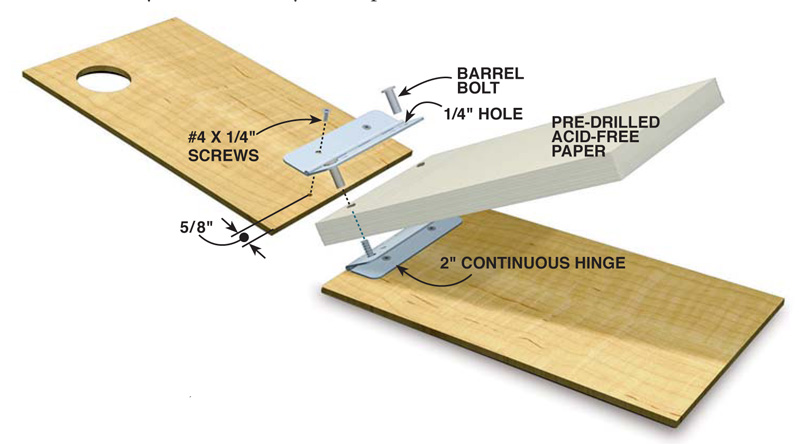 This story originally appeared in American Woodworker April 2000, issue #79.