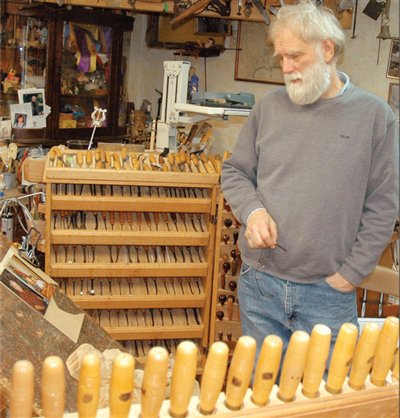 A Great American Woodworker –
Fred Cogelow
One-of-a-kind
carver,
one-of-a-kind
carvings.
By Spike Carlsen
An impromptu encounter with Fred
Cogelow's "Norwegian Wheelchair"
gave me a true sense of Fred as
both an artist and a person. The
chair itself is a thing of rare beauty,
adorned with mythical Scandinavian
figures, interwoven acanthus forms
and intricate faces. It incorporates a swivel
mechanism, reclaimed cast iron
wheels and a chunky seat that caresses
you. Obviously, Fred is an imaginative
artist with enormous talent.

He's also infatuated with trees and
wood. The wood for the wheelchair
came from an ancient butternut tree
near Fred's hometown of Willmar
Minnesota. He prefers not cutting
down live trees for his sculptures, so
he'd kept his eye on this tree for years.
When it died, Fred got permission to
harvest the wood. But when he went
after the old tree with a chainsaw, he
discovered that most of it was hollow.
Not wanting to waste a beautiful
resource, Fred utilized the curved
hollow shell as the backrest of the
chair and other parts for the chassis.

I hesitated when Fred asked if he
could give me a ride in his fantastic
chariot. But I realized something as
I was gliding across his living room
floor: Fred loves to have a good time in
whatever he does.

Carving out a living


When asked what he'd do for a living if
he weren't a wood sculptor, Fred stares
blankly. The thought hasn't occurred to
him—at least not in the last 30 years.
Though deemed "hopeless" by a third
grade teacher that had watched him
break a leg off the Ivory soap scotty
dog he was carving with a butter knife,
Fred persisted. He first tried carving
wood when he was 17, working six
hours with dull carpenters' chisels and
a propane torch on a fir house-moving
beam that his father (who died when
Fred was six) had left behind.

Fred's artistic endeavors were
waylaid for several years while he
earned a degree in political science
from the University of Chicago. He
resumed woodcarving while working
at an adolescent treatment facility,
where he was periodically assigned
to night-watch shifts. "The only
requirements were to make rounds
every hour and stay awake the rest
of the time," Fred explains. "Carving
kept me awake." His first creation was
a dollar bill-size carving of Albert, the
Pogo comic strip character. He tried
his hand at furniture restoration and
construction for a while, but tired
of it. Though his formal art training
consisted of only 7th and 8th grade art
classes, he turned to woodcarving full
time at the age of 29.

Fred likes to concentrate on one
sculpture at a time and completes
four or five large pieces and 15 to 20
smaller pieces in a year. His sculptures
generally sell for $400 to $20,000; large and complex projects bring more. He prefers working on his own designs versus commissions. "I try to make everything a little experimental," he explains. "And commissions usually make you go backwards instead of forwards. Plus you never know if the sculpture in your head matches the sculpture in the client's head."

Versatile and driven


Fred, now 60 years young, is versatile in many respects. The subjects he carves range from cowboy caricatures to superbly realistic religious figures. He's carved local farmers and hung-over gargoyles. Some works, like the sculpture honoring hometown astronaut Pinky Nelson (Photo, above), are nearly life-size. Others are as small as a fist—"Applebee's sliders," Fred calls them.

Fred works in numerous carving styles, but he's particularly interested in what he calls "mezzo-relief" carving. "In between low-relief and high-relief carving is a realm where there are few absolute rights and a good many wrongs," he says. "When working in this style, a carver weighs numerous options of how best to create the illusion of greater depth. These options include warped planes, distorted forms, enhanced or compressed elements, judicious undercutting and the use and re-use of the actual (available) depth. Of course, these options are employed in conjunction with conventional perspective techniques of converging lines, foreshortening and overlapping. Fred's sculpture titled "Betty's Spies"—the 2010 International Woodcarver's Congress "Best in Show" award winner—offers a prime example of this carving style. Although this sculpture is only 3-3/4" deep, the trees visible through the window appear to be far away—across the street from the gentleman in the foreground.

Fred's figures in the round are equally exemplary. In his book,
Sculptor in Wood, Fred explains. "The
greatest problem in carving these
figures—especially from a limb or from
a log—is to create a product which
comes across as something more than
a decorated fencepost." There's no
mistaking Fred's work for a fencepost.
Whether it's a bemused mechanic
grasping a spark plug or an astronaut riding a
horse, his sculptures brim with
personality. In Fred's sculpture of
a wizened gentleman seated on
a pair of boxes, the
figure appears to be paused in the
midst of a heart-rending story. His
sculpture, "Peter Accused" has such realism
and emotion that one hesitates
to turn away from it. "Rest Easy
Tonight" is
playfully political.

Fred's fellow woodcarvers
agree that he is one of the best.
Among other honors, Fred has
won "Best of Show" nearly a dozen
times at the annual International
Woodcarver Congress
competition.

Yet the world of carving is not
without its slivers. A few years back
Fred broke his arm while hollowing
out the back of a statue. The bit stuck,
but the drill—and Fred's wrist—kept
turning. And in his office sit two
gorgeous carvings in need of repair.
One, a fabulous mezzo relief, fell
victim to a tainted finish. The other,
a figure in the round, is missing two
fingers and a hat brim, due to rough
handling by a shipper.

For the love of
wood and tools


Fred uses butternut for
80% of his carvings, with
basswood coming in a distant
second and walnut an even
more distant third. He loves
butternut because of its
straight grain, moderate
hardness and coloration.
"It's easier to read the
grain in butternut than in
basswood, because it has
more color," he explains.

"My customers like it too. If I
carve something out of another wood,
it invariably sells for less."

"I think I have enough wood for
several lifetimes," laughs Fred, who
knows the exact provenience of the
wood used in most of his sculptures.
"But that doesn't stop me from
hoarding more." Most of Fred's wood is stored in his late mother-in-law's barn. This stash is primarily the result of a friendship with a DNR forester, who occasionally informed Fred of fallen trees in need of removal. The stack of apricot wood in Fred's storeroom, though, came from a tree in his own back yard.

Fred is equally enamored with tools. His workspace consists of a padded stool perched in front of a massive carving easel created from the cast iron base of an old mortician's table. "A tool-collector friend sold it to me for $25," Fred recalls. "He called me up out of the blue one day and announced that he had something I needed. You can crank it up or down, it tilts and it's darn solid—the best carving table I've ever seen. It has saved my back and hence, my career." Fred's work station is surrounded by tool cabinets containing hundreds of gouges, skews and chisels, all within easy reach. Sandpaper is nowhere to be found. "I can't remember using it on more than three or four pieces in the past 30 years."

Fred's shop, perched on the second floor of a reconstituted chicken shed next to his home, is filled with objects that Fred uses as both inspiration and models. He has antlers, skulls and his "Norwegian track-lighting system," an old hay mow trolley that hangs from a wooden track and carries a single candle. "My contribution to cutting-edge technology of which I am most proud," Fred claims. He has weathervane roosters, stained glass windows, Mickey Mouse Club badges, bent bugles, sections of curved choir loft railing, horse stirrups, old tools and things that defy description. Amidst all of this hangs a sign with a quote from Thomas Edison that reads "To invent you need a good imagination and a pile of junk."

Click any image to view a larger version.

Joyride
(Honoring astronaut George "Pinky" Nelson
Basswood
1999
96" H x 96" W x 26" D

Norsk Rullestol

(Norwegian Wheelchair)

2004

Butternut, black walnut, bur oak

34" H x 28" W x 40" D

Aint Indolence
(… If You're Minding
Other's Business)

1995

Butternut

30" H x 14-1/4" W x 17-3/4" D

Rest Easy Tonight

(A Salute to the Department
of Homeland Security)

2004

Butternut; walnut base

19" H x 9" W x 14" D

Peter Accused
(a.k.a. Peter Meets His
Principle …Fred Ditto …)

2003

Basswood

44" H x 26" W x 28" D

The Simple Pleasures of Edifying the College-Educated
(It's Your Spark Plug, Dummy!)

2008

Butternut

18-1/2" H x 14" W x 6" D

Betty's Spies
(Small Town Busybodies Keeping Busy)

2010

Basswood

21" H x 24-1/4" W x 3-3/4" D

Deck of 51

2010

Butternut

15-1/2" H x 17-1/4" W x 5-5/8" D
Advice for rookies

Fred suggests whittling as a way
to learn about tools, and splitting
firewood as a way to learn about
wood's grain. As for subject matter,
he says, "Do something you're familiar
with. If you like messing around with
cars, do cars. If you like bird watching,
do birds."
He's hesitant to recommend any
particular set of tools. His advice for
those interested in testing the waters
is to find a carving or casting in a style
they'd like to attempt and bring it to
a place that sells carving tools, so that
they can ask what tools they'll need
and experiment with different types.
"Be mindful that any motion that
cuts without use of a prying effort is
legitimate, be it straight on, rotational
or gliding," Fred explains. "Keep your
tools sharp and remember that a
cool tool is a happy tool. And think
of your tools as an extension of your
hands, in the same
way figure skaters
think of skates as an
extension of their
feet." If that's true, Fred Cogelow has
won Olympic gold.
Eye of a master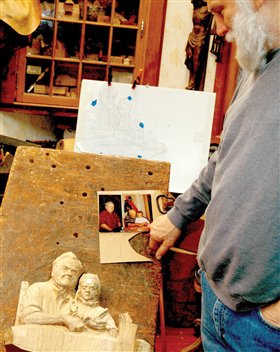 Fred describes carving as both an artistic and logical
endeavor, but he's been carving for so long and works so
intuitively that he finds it difficult to put the creative process
into words. "Part of it is learning how to see," he explains. But
since there are tools, materials, specific end results and a
coherent way of getting there, "Part of it is engineering the
piece, too."
He often works from photographs and is not beyond
asking friends to dress in bed sheets to serve as models when
he's carving robed religious figures. Interviews sometimes
help Fred understand the personalities of his subjects that
photos can't convey. With some commissions, he'll create
life-size sketches as a guide, but he rarely uses calipers to
transfer measurements, since some elements grow and
others shrink when they're carved, especially in mezzo-relief.
For the commissioned project
shown here, Fred started
with two photos—an
inspirational shot
showing the father
and his daughter
playing solitaire
and a second
shot
portraying a good likeness of the father. As Fred generated
a full-size drawing from which to work, he had a friend
model, so he could get the correct folds in the shirt.
Because carving is a subtractive process, where
material is taken away rather than added, Fred is
constantly wary of making commitments that can't
be modified. "The temptation to round things off or
undercut them prematurely is always present. Doing so
makes them look correct in the short run, but it dooms
them to be mediocre or outright wrong in the end."
And though parts of the process can be learned,
Fred clearly has the eye of a master. Referring to a recent
sculpture, Fred explains, "When I'm out there with a
chainsaw, I can already see the cowboy in the tree."
| | | |
| --- | --- | --- |
| This story originally appeared in American Woodworker October/November 2010, issue #150. | | |