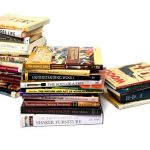 Some newer names in woodworking share the books that inspire them.
by Rodney Wilson
pages 48-54
I'm bookish. I've always been bookish. As a child I begged for stories until I could work through books on my own. I spent much of my childhood with Judy Blume titles, then grew to major in English, build a writing career and find work as an editor because, well…I'm bookish.
Electronic books don't hold much sway with me – I understand their place, but for me books need heft, a certain touch and (of course) that smell.
I still have shelves weighted with farming books from when I adopted an agrarian life. The Internet is awesome (and sometimes awful), but I comprehend information better when my eyes pull it off a page.
Despite the constant clanging of print's death knell, I can't see a future where books lack cultural position. Many woodworkers were born between shelves at the local public library.
One reason I believe books will persist? Young people (i.e., those who will carry culture forward in the coming years) still read – and young woodworkers are among this demographic subset. Folks under 40 still search the piles to learn about dovetails and tenons, chisels and chainsaws. They have the words of George Nakashima and James Krenov to feed their burgeoning interests. And how do I know? I asked them.
I scoured Instagram and the web for fresh faces and sawdusty hair, collected emails and asked for books that inspired. And they replied, sending titles that informed their love of making things from wood.
In "The Unabridged Journals of Sylvia Plath," the poet wrote, "I can never read all the books I want; I can never be all the people I want and live all the lives I want. I can never train myself in all the skills I want." If the sentiment sounds familiar, consider how, in the same collection, Plath writes, "I hope to take woodworking this next fall."
Books and building just go hand in hand. And Plath's sad realization she'll never read, become and master all the things she wants is at the heart of what keeps folks reaching into the stacks.
So we can't hope to read every book, but maybe you'll find in the following pages a handful of titles, from some of the newer names in woodworking, to add to your inspiration pile. And while a few titles enjoyed repeated mention ("A Cabinetmaker's Notebook" and "Soul of a Tree" each showed up a few times), I picked and chose to offer unique reading options from each maker.
Podcast: Listen to "From Tree to Shining Tree," from Radiolab – a non-books recommendation from Laura Zahn.
Laura Zahn
Personal website: http://offthesaw.com/
Allied Workshop website: https://alliedwoodshop.com/
Instagram: @alliedwoodshop
Joshua Klein
Personal website: http://kleinrestoration.com/
Mortise and Tenon Magazine website: https://www.mortiseandtenonmag.com/
Instagram: @mortise_and_tenon_mag
Ashley Harwood
Personal website: http://www.ashleyharwood.net/
Woodturning classes: http://www.ashleyharwood.net/ashleyharwood/Classes.html
Instagram: @ashleygharwood
Brendan Gaffney
Personal website: http://www.burn-heart.com/
PWM Shop Blog contributions: https://popularwoodworking.com/author/brendangaffney
Instagram: @burnheartmade
RH Lee
Personal website: http://leebuild.com/
Offerman Woodshop: https://offermanwoodshop.com/
Instagram: @offermanwoodshop
Martin Goebel
Goebel & Co. website: https://www.goebelfurniture.com/
Goebel's instructional videos: Modern Trestle Table and Working With Live-Edge Tops
Instagram:@goebel_co_furniture
Tor Erickson
Website: http://ericksonwoodworking.com/
Instagram: @ericksonwoodworking
Jared Rusten
Website: http://jrusten.com/
Instagram: @jrusten
Yoav Liberman
Personal website: http://www.yoavliberman.com/
PWM Shop Blog contributions: https://popularwoodworking.com/author/yoav-liberman
Keith Mitchell
Personal website: http://www.shipwrightskills.com/
Instagram: @shipwrightskills

Article: Read our 2011 article "The Craft Classics in 5′," which features the books some more established names in woodworking find influential (as well as our editors' list of favorites).
blog: Download a list of readers' favorite woodworking books.
From the October 2017 issue, #234