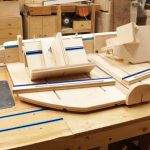 Make accurate and safe crosscuts with ease – and set the stage for clever accessories.
by James Hamilton
pages 35-40
Most power-tool woodworkers have at least one table saw sled. And while a sled can make your work safer and more accurate, a well-thought-out sled can also do much more.
Sometimes I call this one the "MegaSled," other times the "Super Sled," because its large size makes it so versatile. In fact, it's the perfect platform for any number of joinery jig attachments. Since designing the sled I've added jigs for cutting miters, splines, tenons, finger joints and dovetails, and I have plans for more jig attachments in the future. It's all possible because of the sled's fence design. In fact, you will see several unique and useful features as you build this table saw fixture. In this article, I'll focus on the sled itself; in the next issue, I'll cover the jigs. Let's get started!
Cut the Parts
I don't typically recommend beginning a project by cutting out all the parts. It's usually best to cut each part as needed (and make sure it fits before committing) as the project moves along. But in this case, it is simpler to prepare the entire cutlist at the outset.
As you do, use a pencil to label each piece with its assigned letter from the exploded diagram provided. I'll refer to these letters as I go along.
Take care to cut each piece carefully. Check that your table saw's blade is perpendicular to the table. Square parts should be square, both in their corners and on their edges. As you assemble the project, use a combination square to keep everything true – extra care now will pay off in the end with an accurate sled.
Also, choose quality plywood. While Baltic birch is always an excellent choice for jig making, I've had good success with off-the-shelf, hardwood-veneered plywood from the home center – but I don't recommend construction-grade plywood.
Read the entire article by clicking here.
Video: See how to make runners and use them to adjust your sled.
Video: See a "mini" version of the sled
Videos: Watch overviews of the sled's jigs, including the miter-cutting jig and the box joint, tenon and splint jigs
Videos: See the two-part overview of the MegaSled. Click here for Part 1 and here for Part 2.
Website: Visit James Hamilton's website: stumpynumbs.com.
In Our Store: "The Homemade Workshop," by James Hamilton, available in paperback and as an eBook.
From the October 2017 issue, #234