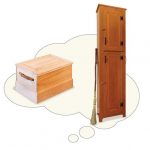 The best measure of success comes in the doing.
by Jonas Jensen
page 72
I don't know if I am alone in this matter, but I have to admit that quite often I consider myself a couch builder.
Maybe you know the drill yourself.
You sit on a couch and read a woodworking magazine not just to get inspired – that would be fine. But somehow you imagine that it is you doing the build. And boy I know that I am efficient in those projects! A tool chest: 20 minutes maximum. A workbench: maybe 25 minutes (but that includes a cup of tea).
In my mind I can build as fast as I can read the magazine. Actually, after reading the articles a couple of times I don't even have to read the fine print anymore. I just look at the pictures and maybe read the text accompanying them.
One of the really nice things about building this way is that there are never any surprises such as reversing grain, knots, running out of stock, wood movement, bad finishing, overcutting lines, tear-out, bad glue-ups, twisted stock or dull tools.
Actually, these builds are probably my best ones. They never go wrong – but if they by some stroke of bad luck should, fixing them would be a piece of cake.
Twitter: Follow us on Twitter @pweditors.
In Our Store: Want to learn to cut strong dovetails? Check out our Dovetails eMag.
From the October 2017 issue, #234