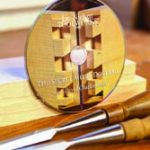 David Charlesworth's new video is groundbreaking instruction.
by Christopher Schwarz
p. 14
The "secret miter" dovetail is considered the most elegant and difficult of all the dovetail joints to make. As a result, many woodworkers hesitate to even attempt the joint, which can seamlessly wrap the grain around a furniture carcase to a beautiful effect.
In his latest DVD, English craftsman David Charlesworth – best known for his "ruler trick" for sharpening – dissects the secret miter joint to present it as one that almost any woodworker can make with just a little care.
Like all of David's DVDs, "The Secret Mitre Dovetail" is an extremely detailed presentation of its topic. No aspect of the joint is too small to consider. And this particular DVD uses razor-sharp macro photography, which allows you to see exactly what is going on as the tools enter the wood.
What I quite like about David's DVDs is that he presents the absolute finest work imaginable. While some might see it as fussy or overly precious, I take a different view. Any woodworker who watches this DVD will come away with some fantastic approaches to layout, sawing, chopping and paring – even if they never cut a secret miter dovetail.
In particular, David offers some useful insights that I've never seen discussed, including:
■ How to easily set your chisel perfectly horizontal and properly angled when paring a dovetail.
■ How to use two parallel baselines in your dovetailing to improve the joint's accuracy.
■ Using a small scrap to reliably undercut portions of the joint to 1° – a trick I will begin using immediately.
■ Plus, how to asses the fit of the joint using a bench light to show areas that need paring before you even do a test-fit.
Read the full review here.
Web: lie-nielsen.com
Web: Visit David Charlesworth's web site
From the October 2015 issue