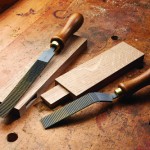 Old machines are revived to produce new joinery and plane-making tools.
By Robert W. Lang
Page 18
Until a few years ago, floats were one of the least-known traditional tools in woodworking. Planemaker Larry Williams made them, and he worked with Lie-Nielsen when it introduced a line of these unique shaving tools a few years ago.
Across the Atlantic, French rasp maker Noel Liogier had the necessary machinery, sitting unused after being put away by his grandfather decades before. The Liogier firm made tools in the 1950s for filing down lead used in auto-body repair, which use essentially the same tooth pattern as a good float for woodworking joinery.
Woodworking floats aren't a familiar form in France, but Liogier's English-speaking customers suggested he make them. So the machinery was dusted off and put back in service, and Liogier floats are now available directly from the manufacturer's web site.
I've been using both the crank- and straight-handled Liogier floats for a few weeks now, comparing them to both the Lie-Nielsen floats reviewed in our December 2006 issue (#159) and the Iwasaki carving files reviewed in November 2009 (issue #179).
As with the other floats, the Liogier tools have rows of teeth that cross the body of the tool; imagine a saw with an 1″-thick blade and you'll be looking at the business end of a float. Typically, the tool is pushed across a flat surface. Each tooth acts much like a scraper, making the surface smoother and flatter.
Many hands make light work, and floats are efficient, easy to use and leave a very smooth surface behind. The feedback from the tool is excellent, and with a light touch it is easy to keep a float in full contact with a flat surface.
 Video: Look inside the Liogier workshop to see how the company's rasps are made.
From the October 2013 issue, #206
Buy the issue now.