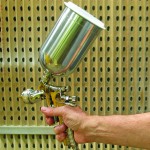 Vacuum cleaners were the basis for a major change in spray technology.
By Bob FlexnerPages 62-63
For almost a century the dominant spray technology was based on high-pressure compressed air. This technology produces wonderful results, but it has the downside of creating a lot of bounce back – the spray, under high pressure, that bounces back off the surface only to be exhausted into the atmosphere.
The result is a lot of wasted finish, and a cloud of unhealthy-to-breathe mist in the work area if the exhaust isn't adequate.
This changed with the introduction of a new class of spray systems that perform just as well, but create a soft spray that has little bounce back. This newer technology is called High-Volume, Low-Pressure, or HVLP.
It has been so successful in replacing high-pressure spraying that it's difficult to find new high-pressure spray guns available to purchase. How and why did this change come about?
SCAQMD & Apollo Sprayers
It all started around Los Angeles, Calif., the area of the country most concerned with air pollution. In 1976 a regulatory entity comprised of five counties was set up to try to reduce this pollution. Its name is South Coast Air Quality Management District, or SCAQMD.
The main polluters, of course, are automobiles and industry, but paints and finishes also contribute. So SCAQMD looked for ways to reduce the amount of solvent exhausted into the atmosphere.
Articles: You'll find many free finishing articles on our web site.
In Our Store: "Flexner on Finishing" – 12 years of columns illustrated with beautiful full-color images and updated, and "Wood Finishing 101."
From the October 2013 issue, #206
Buy the issue now.