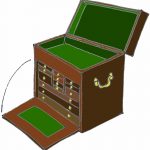 Design your tool storage from the inside out.
By Adam Cherubini
Pages 54-56
I currently store my woodworking tools in a traditional cabinetmaker's/joiner's tool chest. In building that chest, I leaned heavily on surviving period chests as well as images dating from the period. Over the years I've been an advocate for these sorts of chests. But I'm not convinced of their popularity with modern woodworkers.
This year at the "Woodworking in the 18th Century" conference in Colonial Williamsburg, North Bennet Street School (NBSS) instructor Dan Faia showed images of chests made by the school's cabinetmaking students. NBSS focuses on traditional cabinetry and many students and graduates build reproduction furniture. So I was a bit surprised to see no chests resembling mine. The students' chests were more similar to Gerstner's machinist's chests than to 18th- or 19th-century-style cabinetmakers' chests. I pondered how such chests could hold any cabinetmaker's tools. Where would one store a half set of hollows and rounds? A ripsaw? A try plane? What are these students being taught?
It took me a minute to arrive at an answer: Most woodworkers don't have or use any of the tools I consider absolute necessities. These boxes probably held some tools familiar to me (such as chisels and dovetail saws), but they likely also contained hex keys, screwdrivers, dial indicators, combination squares, rulers and other things either I don't use or don't associate with woodworking.
What really attracted me to the NBSS chests was how unique each was. Sure, they are all based on machinist's chests, but each student arranged and sized the drawers to fit his or her own sensibilities.
Aesthetically, each chest was unique as well. Students experimented with veneers or different species of solid wood. As Dan explained it, the goal was to encourage each student to find his or her own way and style.
When I got home I looked afresh at my cluttered shop. My traditional tool chest does a great job of holding my cabinetmaker's tools, but what about everything else? A five-minute trip to Chris Vesper's booth at Woodworking in America 2011 left me with a sampling of his very fine layout tools. Since then I've collected a few other bits and pieces I felt necessary for toolmaking. These really deserve better storage than the cardboard and plastic storage boxes in which they currently reside. So I decided to build my own version of a mechanic's or machinist's chest. In keeping with the NBSS students' chests, I wanted my chest to serve my needs and reflect my sensibilities.
Design Survey
Just as I did on my cabinetmaker's chest, I began this project with a survey of existing chests. The standard machinist's chest has a few features I wanted to reproduce. These chests are characterized by a bank of small drawers. The uppers often flank a central door or drawer. In some chests this held a copy of "Machinery's Handbook," an invaluable reference for machinists. Another useful feature is the hideaway front panel that covers the drawers. The front piece is also lockable, providing after-hours security at the factory. The top typically hinges to reveal a well for bulky items.
Blog: Read Adam's Arts & Mysteries blog.
Video: Watch our video visit to Gerstner & Sons, in Dayton, Ohio, makers of machinist's tool boxes.
In Our Store: "The Arts & Mysteries of Hand Tools" on CD.
From the October 2012 issue #199
Buy this issue now