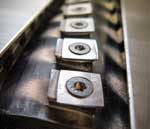 Grab your torch and pitchfork; the hand-tool guy has a table saw.
by Christopher Schwarz
pg. 64
People react with shock and horror when they learn I have electric machinery in my Kentucky workshop.
After all, I've been writing almost exclusively about handwork for almost 20 years now. And yet anyone who is more than an acquaintance knows that I adore heavy iron, and that I coddle my machines like prize French bulldogs. So what's the deal?
I like all the woodworking tools, from chisels to CNC routers. I want to know them all – inside and out – so I can do my best work with the smallest amount of stupidity swirling around in my shop. Here are two simple examples:
Stupid: Making a jig to cut a compound angle on the table saw.
Not stupid: Knifing a line and cutting the compound angle with a carcase saw.
Stupid: Processing 200 board feet of rough lumber with a jack plane.
Not stupid: Using an electric jointer and planer to do the work in an afternoon.
Perhaps I'm just trying to be efficient, but I don't see it that way. I choose different tools or machines to remain a furniture maker at all times. I don't want to become a machinist where jigs, numbers and precision measuring tools guide my work. And I don't want to be a donkey, using the little time I have on this earth to do a mindless chore (ripping 12/4 maple) out of some affectation.
Website: Read more from the author at lostartpress.com.
In our store: "Mastering Hand Tools," a 2-DVD set or video download by Christopher Schwarz.
From the November 2016 issue, #228