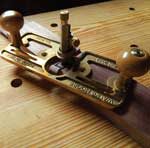 Based on the Preston 2500P, this bronze tool will last longer than a lifetime.
by James McConnell
pg. 16
Router planes are the Swiss Army knives of joinery, cleaning out dados, leveling lap joints and trimming tenons with speed and surgical precision. The new Walke Moore Tools 2500 excels at all of the things you want a router plane to do, and a few you might not expect. While no tool is perfect, there are several things about the 2500 that set it apart in its class.
To begin with, size matters. Drawing its DNA from the desirable but discontinued Preston 2500P router plane (patented in 1907), the Walke Moore 2500 offers a generous 81⁄2″ x 31⁄2″ rectangular footprint, giving it an expansive reach and rock-solid feel.
The historic form is reimagined here in some innovative ways, beginning with a manganese bronze casting intended to add both durability and mass to the tool while protecting against rust. Bronze tools don't rust, but they do oxidize, and the test model left some dark marks on the surfaces of lighter colored wood. This may or may not be a problem for you.
Website: Walke Moore Tools
Article: Read "Mighty Router Planes," free on our site.