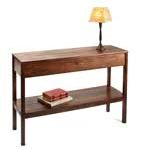 This slender table maximizes minimal space.
by Rodney Wilson
pgs. 58-59
My family recently left our sprawling farmhouse for a compact ranch. We left our farmhouse-sized stuff too, and now we need new furniture. This little console table, under 4′ wide and just more than 1′ deep, fits nicely below a wall-mounted TV to maximize floor space, and the removable shelf provides valuable storage space.
Stock Prep
Four 47″-long pieces make the top and shelf. I bought two 1x8s, which is just enough but leaves little room for cutting off checks and cracks – consider buying a longer piece (but 8′ is max for many vehicles). You'll also need two 6′ 1×6 boards for the side, front and back aprons, as well as two 6′-long 2x6s.
To make the legs, crosscut one 2×6 to two lengths of 311⁄4″ on the miter saw. Set a combination square at 11⁄2″ and mark a line on the long edge. Align your jigsaw blade (or circular saw blade) to your mark, then align and clamp a straightedge with the edge of the saw's shoe. Rip four legs.
When the legs are ripped to width, bundle them together to decide on and mark your final leg orientation.
Next, cut two long aprons from the 1×6 boards. Set a stop at 44″ at the miter saw and chop both pieces to length. Cut the remaining 2×6 for the long stretchers to that same length.
Reset the stop to 111⁄2″ and cut two short aprons from the remaining 1×6. Cut a 2×6 piece to the same length for the short stretchers.
Plan: Download a free SketchUp model for the "Contemporary Console Table."
Articles: All the "I Can Do That" articles are free online.