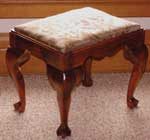 You don't need a band saw to shape these classic furniture gams.
by Zachary Dillinger
pgs. 40-44
Readers of this magazine are no doubt familiar with the cabriole leg. One of the hallmarks of the Queen Anne and Chippendale styles of furniture, the cabriole is a complex curved surface that can be a daunting task to the hand-tool only woodworker.
Compound curves are among the most difficult things to pull off for those of us who pretend it is 1725 and the band saw hasn't yet been invented, but craftsmen of the period pulled it off, and we certainly can do the same today.
I've tried a couple methods. One is based on making curved cuts with bowsaws, coping saws and frame saws to cut the compound curves close to lines drawn on the leg blank using a template. The other – the one detailed in this article – calls for making straight cuts that approximate the tangent line of the curves, then shaping and smoothing the curves with drawknives, rasps, chisels and scrapers.
In my experience, cutting the curves with a bowsaw takes more time than cutting straight lines with a ripsaw and, because you have to shape and smooth the resulting blanks either way, I choose the easier and faster roughing-in method. A good ripsaw is the quickest way to accomplish this task in my hand-tool only shop.
Just as important as the speed and efficiency of this method is the joy it brings. It is truly a pleasure to take a roughly sawn, angular blank and transform it into a smooth, sinuous surface with little but your own fingertips and eyes to guide you.
Blog: Visit the author's web site.
Article: "Trio of Trifids," by Chuck Bender. Code from August 2012
Article: Christopher Schwarz uses a powered approach to cabriole legs in "Creole Table."
Video: "Carve a Pierced Ball and Claw Foot," by Alf Sharp DVD and video download.
In Our Store: "With Saw, Plane & Chisel: How to Build Historic American Furniture With Hand Tools," by Zachary Dillinger.