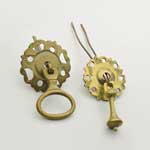 A concise chronicle of furniture hardware styles to help you build it better.

by Orion Henderson
pgs. 60-61
One question I am often asked is, "What hardware should I use?" And the answer is usually, "It depends."
What did you build? Are you refinishing or restoring? Is your work an original or a reproduction?
Whether you're looking to stick to tradition or break from it, I believe it's helpful to understand the history behind the hardware – where it's been and where it started – when selecting knobs and pulls for your pieces.
To provide a little more insight, I'd like to walk through the main historical periods of American furniture brasses. To keep things brief, I won't get into hardware from other parts of the world (French and German hardware can be quite nice, though). I guess I could explore Shaker hardware, but I just don't find wood knobs that exciting.
William & Mary
In 1660, England's King Charles II had just come out of exile to reclaim his throne. (I should note that American furniture brasses, with the exception of the Craftsman style, originated in England.)
This period is known as "The Restoration," and we know furniture and hardware from this era as William & Mary style (they took the reign(s) in 1689). The style, at least in terms of hardware, was produced from about 1660 to the early 1700s, and was largely made of brass, with some occasional cast silver pieces.

Article: Learn how to install knife hinges.
Article: Learn how to install a half-mortise lock.
Article: Learn how to install hinges in mortises.