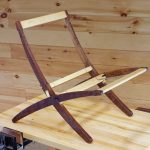 Shop-made hardware and precision joinery are the foundation for this Danish-inspired folding seat.
by Caleb James
pages 23-32
Danish furniture is making a comeback these days. It's been a favorite of mine from the moment I discovered the style. It had all the hallmarks I wanted in furniture: simple, beautiful design and construction. Nothing fancy, just good, honest furniture I could put to use that would stand the test of time and only look better with age. I loved Shaker and Arts & Crafts furniture and, unknown to me at the time, these styles had a huge influence on Danish designers.
Hans Wegner set much of the tone for that era; his 512 folding lounge chair was one of his most imitated designs. Inspired by the Shakers – who hung chairs on the wall when not in use – this chair was to be stored on a wall hook and brought out when one needed extra seating for guests. It turned into permanent seating, however, for most owners.
The Danes didn't seem to hold back from taking cues from one another when it came to designing a new piece. Many considered Wegner's design to be influenced by Ludwig Mies van der Rohe's Barcelona chair, which in turn was thought to be an extrapolated form of the Grecian Klismos chair and/or the Roman Curule chair. The roots of the Danshopish folding lounge chair do indeed even reach back to the classical forms.
I designed a chair that incorporates the classic folding chair of the Danes and their love of paper cord as a weaving material. If you have ever wanted to learn how to weave Wegner's CH25 lounge chair, this is virtually the same pattern. I hope you enjoy building my version of a Danish classic and make it a classic in your home.
Website: See more of the author's furniture – and his wooden handplanes and other tools at calebjamesmaker.com.
Patterns: LoungeChairPlans (PDF downlooad).
In Our Store: "Chairmaking & Design," by Jeff Miller.
From the June 2017 issue, #232