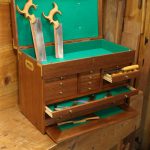 In the end, are period tools right for post-Industrial materials?
By Adam Cherubini
Pages 58-59
I began my machinist's chest project with the intention of using it to commune with the greater modern woodworking world. I wasn't kidding. The chest is designed to hold the miscellaneous tools that I think of as non-traditional, but in reality are the essential tools for 99.9 percent of woodworkers. (There's no place in my traditional tool chest for hex wrenches, machinist's squares, metal rules, plastic-handled screwdrivers and the like.) I think the finished machinist's chest is both useful and attractive. In this article, I'll cover some of the details of the drawer integration and finish work that I hope will help you when you construct your version.
But of equal or greater importance to me is the journey I undertook as I worked through this project. What fits or does not fit into my 18th-century tool chest has less to do with what tools the chest can physically hold, and a lot more to do with my reluctance to try modern woodworking approaches. For me to consider new tools or new methods, I feel as if I need a new tool chest in which to store them, and a context in which to use them.
While I recognize my approach to woodworking is decidedly unique, I suspect we are all a little alike – stuck in our own woodworking paradigms, reluctant to venture out and always desirous of fitting new tools and skills into our previous tool chest…regardless of whether they fit or not.
Drawer Strategies
In my last column, I wrote about mounting plastic strips to the insides of the case to serve as drawer runners for side-hung drawers. These drawers were known in medieval times and you'll find them being used in construction today. I borrowed a few design details from early drawers and ran into a few problems as well.
I used maple for the drawer sides, grooving the sides with a plow plane and finishing with an old widow's tooth router. The position of the groove is critical to the alignment of the drawers. I planed all the sides to finished dimensions then, using the lower edge of each drawer side as a reference face, I plowed the groove. The material was hard, and the pieces were small and difficult to hold. Though the design was roughly similar to other projects I've done, the materials, scale and precision required were not.
Blog: Read Adam Cherubini's blog.
In Our Store: "Mechanick Exercises," by Joseph Moxon.
From the June 2013 issue #204
Buy the issue now