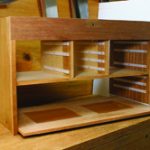 Do 18th-century tools and techniques always work for modern pieces?
By Adam Cherubini
Pages 58-59
I'm in the middle of the construction of a machinist's-style chest to hold some of my smaller or modern woodworking tools. My goal with this project was to recognize the tool-storage needs of the majority of woodworkers and build something that would be more familiar to them. I was also interested in gauging my skills against modern styles of construction. Does my focus on 18th-century woodworking hinder me in executing modern work? I think the quick answer is yes.
Carcase Construction
The basic case consists of 1⁄2″-thick solid wood side pieces attached to the front, back and bottom with screws. Though it's a departure from this style of construction, I attached the center horizontal divider to the case sides with sliding dovetails. I just didn't know how else to do it. The vertical dividers were glued and screwed into place.
Clamping Woes
Joinery in the 18th-century style relies on interlocking wood joints, such as dovetails and mortise-and-tenon joints. These joints are strong and beautiful. They also allow a piece to be dry-fit. The joints both self-locate and self-clamp. Modern joinery often relies on glue joints. This can be tricky. You need a ton of clamps, and without locating features, each dry-fit can put parts in a different position.
Modern woodworkers have a couple workarounds that I don't have: Dowels or biscuits position parts relative to each other. I've seen Norm Abram use his pneumatic brad-nailer for the same thing. Modern woodworkers also often cut mating parts "net" (that is, to their finished lengths), something no hand-tool woodworker should do. My usual approach is to leave parts long and plane them flush after they are joined. But cutting these pieces to size left me with one less reference face for positioning parts.
The Flap
By far the trickiest part of this chest is the sliding front cover, which stows away under the bottom drawer. It slides on a pair of metal pins that run in a tiny dado at the bottom of the case. At the front of the case, the dado stops and turns down so the cover can hinge up without sliding back into the case. It's a clever detail, but it gave me some trouble.
I imagine modern builders could easily cut such a groove with an electric router. The only way for me to do a stopped dado is to chisel it. My solution came from the 18th century: Cut through-dados then apply a filler strip to the front. The right-angle portion of the dado was then carved into the filler.
Blog: Read "Working with Plywood" on the Arts & Mysteries blog.
In Our Store: "The Arts & Mysteries of Hand Tools" on CD.
From the February 2013 issue #202
Buy this issue now