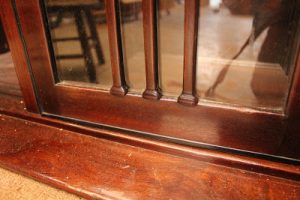 I first met Jim Ipekjian in 2005, about a year after I started at Popular Woodworking Magazine. What began as an e-mail taking me to task for some shortcomings in an article I wrote eventually led to an invitation to visit the man who has more hands-on experience with original (and reproduction) Greene & Greene furniture than anyone.
If you're not familiar with Jim and his work, you can download our December 2006 issue and read the article I wrote after returning from my visit with Jim at his workshop in California. Jim continues his work and research, and has been a presenter at two of our Woodworking in America conferences. Jim works with his son Jack, a nice kid with the annoying habit of calling me Mr. Lang.
Jack has begun to blog about the work he does with his dad at Ipekjian Custom Woodwork. In his first post, he writes about a monumental refinishing/restoration project of an original Greene & Greene piece. This breakfront cabinet will soon return to its original home, after years of suffering and neglect. Jack writes well about the piece, and the work performed with a bunch of up close photos you won't see anywhere else. It's well worth a visit, and I hope to see more in the future.
If you're a fan of Greene & Greene, the book "Greene & Greene Furniture: Poems of Wood & Light" ought to be in your library. You can get a copy from the Popular Woodworking Magazine online store.