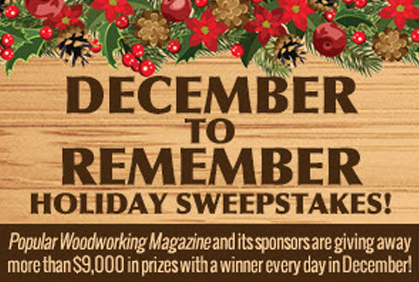 Popular Woodworking would like to say thank you to the many woodworkers out there who entered the 2014 December to Remember Sweepstakes. See our winners list below and don't forget to try your luck next year!

Day 1 – BESSEY K-Body Revo Kit
Ken Baars
Portage, WI
Day 2 – Amana Tool's Bit Set
Penny Routledge
Victoria, BC
Day 3 – Kreg Pocket-Hole Machine
Rick Crowell
La Harpe, KS
Day 4 – Excalibur Router Table Kit
Michael Tillson
Galway, NY
Day 5 – Knew Concepts Coping Saw
Darren Wardlow
Fayetteville, AR
Day 6 – Osborne Island Height Corbel
Kenneth Porter
Solon, OH
Day 7 – CMT Enlock Joining System
Jim Wiles
Chapel Hill, NC
Day 8 – Titebond II Premium Wood Glue
John Yakubinis
Mount Pleasant, SC
Day 9 – Leigh Industries RTJ400 Jig
Charles Weant
Raleigh, NC
Day 10 – Oneida Dust Deputy Deluxe
Alex Adkins
Pickerington, OH
Day 11 – Gorilla Glue Toolbox
Sonjia Kihlmire
Deltona, FL
Day 12 – Earlex SS77 Steam Generator
Rhoades Dutton
Toccoa, GA
Day 13 – Arbortech Contour Sander
Doug Leonard
Urbandale, IA
Day 14 – Easy Wood Parting Tool
Paul Dennert
Waukesha, WI
Day 15 – Trend Diamond Bench Stone
Brian Maynard
Defiance, OH
Day 16 – MPOWER Bundle
Jim Higgins
Duluth, GA
Day 17 – Bessey BGP Clamp Kit
Michael McClung
Owosso, MI
Day 18 – Blue Spruce Fishtail Chisels
Gina Ferrell
Chalmette, LA
Day 19 – Work Sharp Tool Sharpener
Brian Crispin
Mansfield, TX
Day 20 – Woodpeckers Router Lift
Jack Taylor
Birmingham, AL
Day 21 – Senco Compressor and Pinner
Richard Jackson
Poughkeepsie, NY
Day 22 – Forrest Woodworker II Blade
Robert Harty
Eugene, OR
Day 23 – Infinity Lock-Miter Master Jig
Steve Jones
Conway, AR
Day 24 – Woodline 66-Piece Master Set
Charles Mullins
Fayetteville, TN
Day 25 – Mirka Dust-Free Sanding System
John Handforth
Spring Valley, MN
Day 26 – Arbortech TURBOPlane blade
Ralph Houser
Vancouver, WA
Day 27 – Horizon Soft-Maple Slab
Brad Walker
Stewartville, MN
Day 28 – BESSEY 30-Clamp Kit BTB30
Lee Lehman
Bluffton, OH
Day 29 – RIKON Air Filtration System
Buck Lehmann
Oceanside, CA
Day 30 – 20 Board Ft. of Ambrosia Maple
Kim McCloud
Edmond, OK
Day 31 – JET ProShop Saw 708494K
And the December to Remember grand prize goes to David Jackson. David hails from Lancaster, California and considers himself to be a beginning to intermediate woodworker. His hobbies include woodworking, fishing, and paint balling. He plans on using the saw to build projects for his home and to teach his two young children woodworking. All of us here at Popular Woodworking Magazine would like to say thank you, David, for being a shining example of a true woodworker. Congratulations to you and to all of our winners. Don't forget to try your luck in 2015!