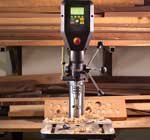 This hi-tech tool takes guesswork out of making clean, precise holes.
by Megan Fitzpatrick
pg. 14
With a vast array of computer-controlled settings and a "smart" motor, the Voyager 18″ drill press from NOVA/Teknatool will certainly appeal to the technology geeks among us. And while I'm a bit of a Luddite when it comes to machinery, this drill press is undeniably cool.
What's most notable is the 13⁄4-horsepower "digital variable reluctance" (DVR) motor with speeds from 50 to 5,500 revolutions per minute, making the machine suitable for metal, glass and plastics as well as wood. There are no belts or pulleys to adjust for speed or tensioning, and the motor maintains your selected speed under load to keep it from stalling. (The 110-volt machine is also remarkably quiet.)
I tried valiantly to make it stall by drilling a 11⁄2″-deep hole with a 2″ Forstner bit in hard maple, white oak and ash, and it powered through (at even speed) – though we did stall it once drilling at an angle into a particularly wet piece of stock during a chair build.
Website: Nova Tools
Video: See the Voyager drill press in use in our shop.
From the December 2016 issue, #229