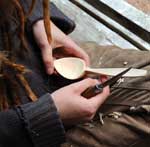 A young maker works green wood with seasoned skill.
by Peter Follansbee
pgs. 44-47
Jazz is dead.
God is dead.
Baseball is dead.
I remember when all these deaths and more were proclaimed, but they all have proven to be untrue. And in recent years more than once I have heard that woodworking is dead. "Not enough young people taking it up" goes the refrain.
Don't anybody tell JoJo Wood of Herefordshire, England. Not only is JoJo young (early 20s), she's female, doesn't always wear flannel shirts and has no gray hair. Doesn't cut dovetails. So she falls outside the average woodworker you might meet.
JoJo ranks among the best spoon carvers practicing the craft these days, rivaling carvers twice her age. She puts an uncommon amount of thought into spoon design and execution, constantly revising her approach to this deceptively challenging craft. Her distinctive spoons are both beautiful and perfectly functional, and she deftly handles a few simple tools to make them, working green wood with axe, adze and straight and hook knives.
While many people come to woodworking through avenues such as classes or publications, JoJo's introduction to the craft was enviably organic. She describes the household she grew up in as "handmade heaven," where an axe, hatchet and carving knife were ordinary items.
WebSite: See the author's work and check out his teaching schedule.
Blog: Read JoJo's blog and peruse a photo gallery of her spoons and clogs.
In Our Store: Learn how to carve your own spoon with Jarrod Stone Dahl in his video, "The Art of Spoon Carving."
From the December 2016 issue, #229