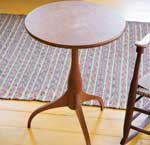 This iconic table is the first perfect copy of the original.
by Will Myers
pgs. 24-32
Sometimes a project ends up going in directions you never expected. What seems to be so simple and straightforward ends up being much more involved. I had not planned to end up on a quest.
A few months back, I was looking through furniture books, trying to find a small table design. I wanted something to go beside the reading chair in my study to hold a book or two and maybe a cold drink. The one I liked the best was a candle stand in the collection at Hancock Shaker Village in Pittsfield, Mass.; it's a design that dates to about 1830.
This little table is an icon; everybody has made it. It has been featured on many "how-to" TV shows and in magazine articles, and it's in most books on Shaker furniture. Apparently though, like a rumor going around, details had been picked up and lost over time – as I soon found out.
After a little digging through my books, I found three with plans for the table in question. Easy right? Comparing the three different plans in the three different books revealed an immediate problem: The dimensions were quite different between all three (and two of the books were by the same author!). Two of the three also stated the plans were measured from the original at Hancock Shaker Village, with an attached photo of the original beside the plans. But the plans did not look quite like the original in the photo.
So I started looking for photos of the original on the Internet. In all, I found pictures of four: two at Hancock, one at the Metropolitan Museum of Art in New York and one on an auction website that had sold two years earlier. So armed with rough dimensions from the books and photos of the originals, I began work on full-size templates for the legs and spindle of the table.
Articles: Read more from Will Myers on traditional tools and techniques.
Website: Check out Hancock Shaker village online.
Video: Learn how to build a Moravian workbench with step-by-step video instruction from the author. Available as DVD or digital download.
Plan: Download a free SketchUp model of this project.
Class: Take a class with Will Myers at The Woodwright's School.
From the December 2016 issue, #229