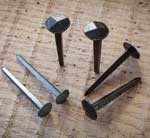 This much-maligned fastener has a place in the finest furniture. Here's why.
by Christopher Schwarz
pgs. 38-43
Among furniture makers, the reputation of the simple nail is somewhere south of expired glue and tacos made from weasel knees.
The following statement is one you hear all the time: The best furniture is built using wood-to-wood joinery alone – just like our forefathers and foremothers did. The only problem with that statement is that it's completely wrong.
Nails have been an important part of furniture making since the Egyptians, at least. And not just for rough work. The finest 18th-century pieces use lots of nails. Roman, Gothic, Shaker, Queen Anne, Victorian and Arts & Crafts pieces all use nails for important parts of their construction.
So why do modern woodworkers despise nails? My guess is this: They're using (and hating) the wrong nail.
Good nails designed for making furniture can be hard to find, though the supply seems to be improving. So what most woodworkers have experience with are modern wire nails. Wire nails are OK for carpentry, but they simply don't hold well enough for furniture.
In this article you'll learn about all the different types and shapes of nails that are important for making furniture and how to apply them to your projects so the nails might actually outlast the wood surrounding them. Let's start by learning about the four different ways nails are made.
Blog: Read more about die-forged nails.
Video: Watch a blacksmith make nails.
Video: See wire nails being made.
Video: See cut nails being made.
In our store: "The Woodwright's Shop:" Colonial Williamsburg: The Blacksmiths Digital Download
From the December 2016 issue, #229