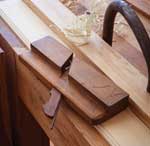 These simple and oft-forgotten tools can make short work of mouldings.
by Christopher Schwarz
pgs. 50-54
Legend has it that one reason there are so few moulding planes left is that when motorized spindle moulders became common, the wooden bodies of these planes were burned for heat because they were obsolete.
Is the story true or false? Who knows. But I definitely know that one part is wrong: Moulding planes are definitely not obsolete.
Once you begin using these planes, I think you are much less likely to use your electric router (I don't even own a router table anymore). Moulding planes are great for short runs of custom mouldings and produce profiles that are ready to finish. No more sanding complex profiles and rounding over crisp arrises.
And once you master these tools, you'll realize that you can cut any moulding you can draw using just a handful of tools.
This article is a short introduction to beaders and complex moulders – just enough to get you started making mouldings. After that, I recommend "Mouldings in Practice" (Lost Art Press) by Matthew S. Bickford for a high-level education in using hollow and round planes.
Video: Video: Watch the author cut an ovolo moulding in real time.
Blog: Read about Read about Caleb James's beading planes on the author's blog.
To Buy: Popular Woodworking Magazine, April 2016, featuring a moulding planes cover story. Available as magazine or digital download.
From the December 2016 issue, #229