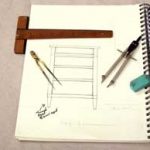 It will take more than one drawing to get it right – and that's OK.
by George R. Walker
p. 20
My best days in the woodshop are with my 4-year-old grandson, Seth. He's just tall enough to see over the benchtop and quick to grab every scrap of wood or curly shaving before it hits the ground.
Typical for a boy his age, his repertoire of sound effects outshines his vocabulary. Walnut offcuts become bulldozers, jet planes and rockets, powered by Seth-supplied motor noises and sirens. These are all equipped with loud machine guns and lasers, and they all tend to crash in fiery explosions.
The sound wafting upstairs is a mixture of my sawing and hammering and Seth's alien space battles. Yet once in a while, when he's resting up between invasions, that little boy will sing quietly to himself. The words make no sense but the music spilling out of his vocal cords sound like the clear notes of a wood thrush in a forest.
I can't help but stop and wonder where that comes from. It's hidden in some small corner in Seth's mind along with a jumble of lightsabers, roaring lions and firetrucks.
The more I learn and teach about design, the more I'm convinced that we all have within us some hidden treasure just waiting to come out. We each have a sense for beauty, even if it only surfaces in the rare moment when we pause to enjoy a sunset. The challenge for all of us is to learn to tap into that inner sense despite all our busyness and noise.
Blog: Read more from George R. Walker on his Design Matters blog.
From the December 2015 issue