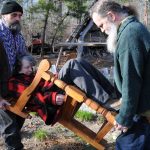 Nicholas Disbrowe, Samuel Sewall and chairs as corpse transportation.
by Peter Follansbee
pages 58-61
As I study 17th-century oak furniture, I come up with many dead ends. The surviving objects tell one part of the story, another view into this world is found in the written records of this period. The holy grail of 17th-century joinery would be an account book, diary or some other record of a joiner's day and his insights into his trade. Thus far, no such record exists for early New England. What views we do get into these men's lives and work come in short, disconnected bits found in various court records, personal diaries and other written records from the period. These snippets come back to me while I'm at the bench.
I've been working on a carved chest with drawers, based on pieces made in the Connecticut River Valley between about 1670-1700. Working on this chest got me to thinking about Nicholas Disbrowe (1613-1683), a joiner in Hartford, Conn. He is most famous in American furniture studies for something he didn't do: an inscription signed on a chest with drawers related to the one I'm working on now. "Mary Allens Chistt Cutte & Joyned by Nich Disbrowe" is signed on the inside of a drawer front on a chest in the Bayou Bend Collection at the Museum of Fine Arts, Houston. When the inscription was first published by Luke Vincent Lockwood in the 1920s, it was accepted as "real" but has since been established as a forgery.
In the end, it doesn't matter to me. It's a nice chest, probably with nothing to do with Nicholas Disbrowe. There are some interesting period records pertaining to Disbrowe's career, though.
Blog: Read Peter Follansbee's blog.
Article: "The Best Oak Money Can't Buy."
From the August 2017 issue, #233