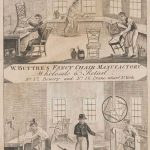 A brief history of a not-so-romantic woodworking education system.
by Bob Flexner
pages 62-63
Ever since the renewal of interest in woodworking in the 1970s, especially among amateurs and small-shop professionals, there has been talk of reestablishing an apprenticeship program similar to what existed hundreds of years ago. But what was that apprenticeship system like?
To describe it I'm going to go a little off my usual topic of finishing, because shops before the American Revolution were small, and finishing was too simple and too small a part of the job to have spawned a specialized "finisher" craft. Those who did the finishing were the woodworkers themselves, who were usually divided into specialized categories: cabinetmakers, chairmakers, joiners, clockmakers, turners, etc.
And these woodworkers were a part of the larger artisan/mechanic category (artisans were often referred to as "mechanics" at the time), which included all skilled craftsmen, from tailors and shoemakers to silversmiths. So any discussion of finisher apprenticeship is really a discussion of craft apprenticeship in general.
Blog: Read Bob Flexner's blog.
Book: Read "The Panorama of Professions and Trades."
In Our Store: "Flexner on Finishing" – 12 years of columns illustrated with beautiful full-color images and updated, and "Wood Finishing 101."
From the August 2017 issue, #233