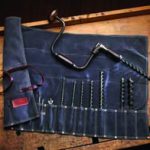 by Megan Fitzpatrick
page 16
I've been looking for a long time for the perfect storage and transport solution for my auger bits. For a while, they were wrapped in kitchen towels – less than ideal. I have two of my grandfather's old canvas tool rolls, but they both have holes in them where pointy bits have poked through over the decades. I have a couple leather ones, which work fine, but are somewhat heavy and bulky. And I have one sailcloth one I sewed myself (it works, but it is embarrassingly ugly; sewing is not among my talents).
But, I recently bought (at full price, of course) a waxed canvas auger bit roll from Texas Heritage Woodworks. It is extremely well-made, with double-stitched seams and hand-peened, copper-riveted stress points (the four corners of every pocket), and a supple leather tie that wraps around the roll to keep everything in place.
The roll has 15 full-size pockets that accommodate a full set of standard auger bits, and five small pockets for other brace accessories such as spoon bits and driver tips.
Read the full review here
Web: txheritage.net
Blog: Read about the company's tool roll
From the August 2015 issue