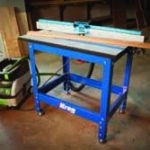 Simple micro-adjust feature and a solid base make this one a contender.
by Christopher Schwarz
page 14
Some router tables have gotten so complex and expensive that they actually rival a decent shaper. I've always preferred simple router tables, so I was curious to assemble and use the new Kreg Precision Router Table.
Like most Kreg products, the parts are well-made, nicely finished and fit together with little fussing. In particular, the base is made from heavy, well-finished steel. And the 1″-thick tabletop is smooth and flat. All the components bolt together, so I recommend you add a little thread-locking fluid to the nuts and bolts to keep the base solid through years of use (router tables tend to vibrate a bit).
Let's start by looking at the tabletop. It's made from a high-pressure laminate over an MDF core. To keep the top from sagging under the weight of a heavy router (or lift), Kreg includes two heavy folded steel supports below that stiffen the top.
The included 3⁄8″-thick insert plate is made from phenolic and stayed flat when I hung a heavy 13⁄4 horsepower router on it. The insert plate needs to be drilled and counterbored for your particular router, or you can ask Kreg to do it for you. The plate is leveled to the tabletop with eight Allen-head screws and secured with four machine screws.
The router table comes with three plastic throat inserts that have different openings for large and small bits. They lock and unlock cleverly with an included tool. Finally, there is an aluminum T-track at the front of the table so you can use a coping sled or other shop-made accessories that use a miter bar.
Read the full review here
Web: kregtool.com
Blog: If you don't want to own a router table, check out this solution.
From the August 2015 issue