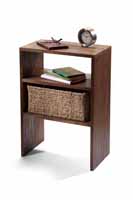 Simply change the 'drawer' and finish to change the look of this easy piece.
By Megan Fitzpatrick
pages 60-63
The first step in building this contemporary side table is to go shopping for the basket that serves as a drawer – then adjust the plans as necessary to fit your choice.
The one shown here is an 11″-deep, 7″-tall, 17″-long sea grass basket from Organized Living – but a basket, tray or cloth tote of many sizes and shapes would work (and you can easily change the style of the project with your "drawer" and finish choice).
The key thing is that your basket/tray/tote not be deeper than 111⁄4″, which is the actual width of 1×12 – the widest dimensional lumber available at the home center.
So, with my basket selected, I headed to the home center for No. 1 white pine.
This project is dirt-simple and, including the $24 basket, cost less than $100. It took just a couple of hours to shop, build and apply the finish – yet I've seen similar projects in various catalogs and stores priced anywhere from $200 to $600.
I know it's easy to fall into the trap of "I could just build that," then never get around to it – but with this side table, there's simply no excuse.
Plan: Download a free SketchUp model of the "Contemporary Side Table."
Articles: All of the "I Can Do That" articles are free online.
From the August 2015 issue