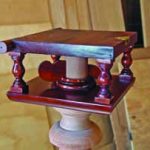 This clever & traditional wooden mechanism allows tabletops to tilt and rotate.
by Alfred Sharp
page 34
During the first third of the 18th century, tea drinking first became a popular pastime in fashionable homes in England and its colonies, hence the appearance of a new furniture form – the tea table.
Besides the "gee-whiz" factor of a tilting and rotating fixture for the finest tables, the "birdcage" mechanism that facilitated that movement had practical applications. These tables could rotate, allowing hostess and guests to avoid undignified reaching for the teapot, sugar, cream or pastries.
Moreover, until the last third of the 1700s, furniture in homes was customarily pushed up to the walls when not in use, leaving the middle of the room open for multiple activities. A round, rotating tea table that would also tilt to a vertical position could be handily situated in a corner of the room to not only save space, but show off the elaborately carved rim and the fancy grain of the fine, wide, single-board tops. This was the very height of elegance during the Queen Anne and Chippendale periods.
Though a birdcage mechanism looks complicated, it can be easily accomplished using typical woodworking skills, as long as the proper order of procedures is adhered to. This project is a great example of the virtues of "working to your work," or letting the previous step define the next step, and gauging the fit of adjacent pieces directly off one another rather than relying on complicated layout and precise measurements. There is some of that of course, but mistakes and misalignments can be minimized by progressively moving from one logical activity to the next.
So let's begin. I'm making a pedestal for a rather large and fancy scalloped-edge table, but the dimensions illustrated here can be scaled up or down for different sizes and styles.
A birdcage assembly consists of eight parts, not counting hardware – the upper and lower plates, four balusters (or spindles), a notched "washer" and a wedge-key. It all spins on a main spindle (hence the name) which is part of the table's pedestal.
And in typical 18th-century fashion, the mechanism is made from the same primary wood as the table – in this case, mahogany.
Web site: See more of the author's work on his web site.
Plan: Download a free SketchUp model of this project.
Blog: Christopher Schwarz reveals another way to fold a table.
In Our Store: "Create a Newport Tea Table with Alf Sharp," a start-to-finish video that teaches you to build a classic Goddard and Townsend piece.
From the August 2015 issue