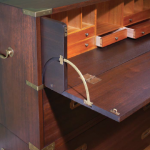 Simple, rugged, masculine and awesome – this sometimes-forgotten style of furniture is great for beginning and advanced woodworkers.
By Christopher Schwarz
Pages 24-30
Campaign-style furniture is as sturdy and simple as Shaker. It is as masculine as Arts & Crafts. And it is free of adornment, like Bauhaus pieces. Yet many woodworkers are unaware of this furniture style, which was popular for more than 150 years in Great Britain, its colonies and North America.
Perhaps the problem is that campaign furniture goes by many names: military furniture, "patent" furniture or traveling furniture. Perhaps enough original examples of the style haven't survived or been featured at major museums. Or maybe there just aren't enough books written about it. For whatever reason, campaign furniture is rarely discussed or built by modern woodworkers, and I would like to change that.
I grew up surrounded by the style, which has roots in both Great Britain and Asia. My grandparents collected the stuff, and my grandfather built several pieces in the style, including some campaign chests and at least two coaching tables. Coaching tables, by the way, are folding tables with a graceful X-shaped base that were used to serve refreshments at carriage stops in the pre-Industrial world.
After my grandfather died, I inherited a box of his leftover pieces of cast brass campaign hardware. And after stumbling upon this box in 2011 in my basement, I decided to embark on building a number of campaign pieces, including a chest of drawers with a secretary in the top drawer.
A campaign chest is a great project – a classic campaign-style piece. But instead of focusing this article entirely on its straightforward joinery and simple construction, I'd like to introduce you to the campaign style, its history and its important details. Though many joints are similar to those in Shaker pieces, there are many construction points that are unique to campaign furniture. So let's get started in medieval Europe.
Furniture of War – at First
Invading armies have to travel, so it makes sense that they would own furniture that was lightweight, portable and rugged. And indeed there is documentary evidence of special field beds for officers during the Renaissance and even earlier, according to published research by William Rieder, a curator in the Department of European Sculpture and Decorative Arts at the Metropolitan Museum of Art.
But it wasn't until the European wars of the 18th century and early 19th century that we encounter a fully formed and separate style of military furniture. British officers purchased their own furniture, and so an entire industry developed to supply them with beds, fold-up tables, collapsible chairs, campaign chests, writing slopes and commodes.
With such strong demand, many leading furniture designers published their own versions of furniture for the military, including Thomas Chippendale, Thomas Sheraton, André-Jacob Roubo and George Hepplewhite.
Blog: See an array of historical campaign chests with unusual drawer arrangements.
Video: Watch a video of the author installing the L-brackets on this chest.
Blog: The author reviews several brands of campaign hardware here, here and here.
Hardware: The hardware used on this chest is from Horton Brasses. You'll also find a full range of excellent hardware for campaign-style pieces at Londonderry Brasses.
To Read: "British Campaign Furniture" by Nicholas A. Brawer (check at your library).
In Our Store: "The Joiner & Cabinet Maker," a British book that will introduce you to traditional casework techniques.
From the August 2012 issue #198
Buy the issue now.