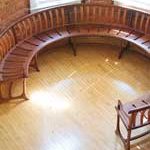 by Megan Fitzpatrick
pgs. 48-54
With so many excellent entries in the 2016 PWM Excellence Awards, selecting the Editors' Choice winners and Grand-prize winner was incredibly difficult. All the editors and contributors have different aesthetic tastes, and the excellent craftsmanship displayed in the top vote getters didn't help settle the discussions. In several cases the winner was chosen by a margin of a single vote; I wish I had room to also print the runners-up (and I will on our extras page at popularwoodworking.com/nov16). But choices had to be made, so here they are: the Grand-prize winner, and the Editors' Choice and Readers' Choice winners in each of our five categories.
Website: Check out all this year's entries online here.