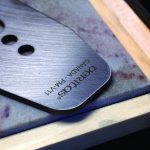 Canadian company creates a steel combining the best of the old and new.
By Christoper Schwarz
Page 14
I've long been suspicious of the so-called "super steels" that promise long edge life between sharpenings. That has always meant that you have to spend a long time sharpening the tool on your stones or – even worse – you have to buy fancy equipment to even get a serviceable edge.
Plus, no new steel I've tried has ever had the feel of old-fashioned high-carbon steel. Until now.
Veritas is using a powdered steel (a closely guarded formula) that seems to defy many of the normal laws of high-carbon and alloy steels. Powdered metal is nothing new in woodworking. During the last decade, I've tried out several plane irons and chisels that were made using the sintering process.