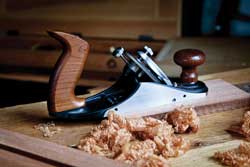 Blade carrier helps to preserve cap-iron settings with ease. 
by Christopher Schwarz
page 14
When Veritas redesigned its bevel-down bench planes, the Canadian company started from scratch. Released in the fall of 2014, these tools share almost no DNA with the company's previous generation.
And, in the Veritas tradition, the company's engineers also chucked tradition when designing these planes. As a result, there are a lot of new things to talk about here. Let's start with the geometry.
For the first time in the history of the craft, you can buy these bench planes with a frog milled at every working angle between 40° and 65° in half-degree increments. There are three standard-size frogs (40°, 45° and 55°, but oddly, no 50°). Ordering a custom angle adds $10 and a little time to the process.
So expert plane users can get exactly what they want. Beginners will probably stick with a 45° frog, though I would recommend spending the extra $10 and get a 50° frog for your smoothing plane if you like curly wood.
You can also customize the knob and tote that come with your plane. There are two kinds of totes (standard and traditional) that are each available in three sizes (small, medium and large). I ordered a traditional tote in medium based on the company's recommendations. After trying other handles during a woodworking show, I prefer the small traditional tote. So you might consider stepping down a size when you order.
The front knob is available in three shapes – standard, mushroom and tall – that reflect the three common types on many metallic bench planes.
And if that's not enough, you can also decide if you want O1 tool steel or the proprietary PM-V11 (spring for the PM-V11; it's nice). And, of course, you get to decide what length the sole is, from a No. 4 (91⁄2″) up to a No. 7 (22″).
Read the full review here
Web: leevalley.com
Video: See how Christopher Schwarz prefers to adjust the cap iron on this plane.
From the February 2015 issue, #216