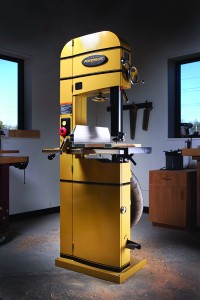 Just about every feature of this 15″ band saw is impressive.
By Steve Shanesy
Page 12
Powermatic's new 15″ band saw is quite a package: good looking, heavy-duty in every way and packed with features.
The fit and finish make a strong first impression. The paintwork is excellent, parts fits well and the chromed handwheels and knobs say "quality." Upon closer inspection, you find a remarkably stout fence (more on that later), beefy trunnions supporting a large table and heavy cast iron wheels. The rock-solid guide post moves easily on rack-and-pinion gears and supports a heavy-duty blade guard.
The PM1500 has a large resaw capacity at 14″ under the guides. Throat capacity is 141⁄2″. All that resaw capacity is supported by a 3-horsepower, 230-volt motor driving heavy cast wheels. I sliced 103⁄4″ walnut with ease.
The cast iron table is 211⁄2″ long x 16″ wide. It has two milled slots for the miter gauge (which is included). The table tilts 10° to the left and 45° right.
From the April 2013 issue #203
Buy this issue now