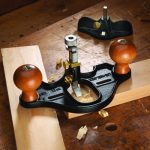 This joinery-tweaking plane belongs in every woodworker's tool kit.
by Christopher Schwarz
Page 14
Even when I am in full-blown power, power, power mode in the workshop, there are two handplanes I turn to all the time: a block plane and a router plane.
Most woodworkers own a block plane, but only a fraction own a router plane, a tool I affectionately call "a chisel with a depth stop." Router planes are the ultimate joinery-tweaking tool. They get your tenons sized to perfection, your dados sunk to the desired depth and your hinges swinging sweetly. And with two new versions from Lie-Nielsen Toolworks, you now have a selection unheard of since World War II.
Lie-Nielsen now offers four router planes – two sizes with two different kinds of throats. The sizes are self-explanatory: The large planes are for full-size joinery and cutting deep recesses; the small routers are for hinge mortises and inlay. The different throats require more explanation.