By Glen D. Huey
Page: 27
From the August 2007 issue #163
Buy this issue now
If you think a 15-gauge finish nailer is a bit more tool than you'll need in your workshop, think again. Every woodworking shop should have this size finish nailer in its arsenal of air-powered tools.
A 15-gauge nailer is the right tool when constructing workshop cabinets, adding face frames to a piece of paint-grade furniture, installing door and window trim or just cobbling together cabinets that are nailed at inconspicuous places.
Hitachi's version of the 15-gauge finish nailer, the NT65MA3, uses nails ranging from 1-1/4″ to 2-1/2″ in length and it has a new feature that will make your job easier.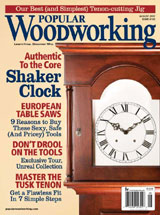 From the August 2007 issue #163
Buy this issue now