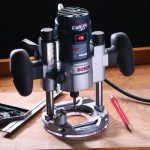 By Robert W. Lang
Page 14
In 2005, Bosch introduced a new laminate trimmer that eventually became know as the Colt. Powerful and user-friendly, it quickly became a favorite in our shop and in shops across the country. At the time, I suggested to Bosch that they needed to make a plunge base for it.
Last summer, Bosch did indeed release a plunge base (PR011) that is well-designed and adds a new dimension to the Colt's capabilities. The overmolded handles are comfortable, and both the power switch and plunge lever are easily reached. Releasing the plunge lever keeps the motor in position.
Mounting the router in the base is a fast and tool-free process; a clamping lever holds the motor in position. The familiar turret-type depth stop has seven positions, two of which have adjustment screws for fine adjustments. The stop rod itself has a screw adjustment on the end, adding an additional way to tweak the depth setting.
The scale reads in both inches and millimeters, and the cursor slides on the stop, allowing the user to zero the scale. The base plate is transparent with a large opening that provides good visibility, and an optional attachment is available for use with Bosch template guides. The base is also bored to accept an optional edge guide, and a dust-collection attachment will be available in the Spring of 2013.
From the April 2013 issue #203
Buy this issue now