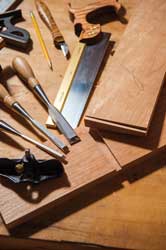 Hand tools are the way to go for this traditional joint.
by Frank Strazza
page 30
Tapered sliding dovetails are multipurpose joints traditionally used for drawer dividers, holding legs in place on a pedestal table and attaching tops to case pieces.
The primary reason for a tapered joint (instead of a straight joint) is the reduced friction over its length. The tapered sliding dovetail gets tight only during the final fit, when it is ready to seat home. This reduced friction makes fitting much easier.
Once the joint is seated, it is extremely tight and often requires no glue. Hand-cutting this joint is easier and quicker than the lengthy process of setting up a jig and machine.
After incorporating tapered joints into much of my furniture, I've found them strong and multifunctional; I believe you'll enjoy their benefits, as well as the challenge of cutting the joint, as much as I have.
Below, I'll show you how to create a small tapered sliding dovetail, such as would be used for a drawer divider.
For this exercise, I use two 3⁄4″-thick x 4″-wide cherry boards (a typical size for a drawer divider).
The first step is to cut the tapered tail (after making sure that the end of your board is perfectly square).
Set a cutting gauge (not a pinned marking gauge, which would tear the fibers rather than cutting them) to 1⁄4″ and scribe all around the end of the tail board to mark the baseline. On the board's edge, the sliding dovetail appears identical to a regular dovetail. However, from above, there will be a taper.
Place the tail board upright in your vise in preparation for marking tapered lines on the end grain. Starting with the end facing you, place a straightedge on the outside edge. Angle it toward the other end of the board, with a slope of about one-quarter the thickness of the board; in this case, that will be 3⁄16″.Draw a tapered line with a pencil along the straightedge. Repeat this process for the opposing side.
Using a dovetail marker or bevel gauge, draw the lines for the tail on the edge of the board. (I like a 1:7 angle.)
Web: Visit the Heritage School of Woodworking and the author's web sites
Video: Watch Frank Strazza demonstrate this technique in a free video
Web seminar: "60 minutes to Better Furniture Design" seminar download, by Frank Strazza
In our store: "Made by Hand," by Tom Fidgen
From the April 2015 issue, #217