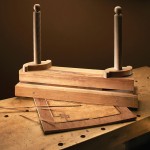 This centuries-old device is effective in use and simple to make.
by Derek Olson
pages 44-46
In my early years as a woodworker I was prejudiced against veneer – but experience has mellowed my opinion; I've realized building the period furniture pieces on my bucket list requires skills working with veneer and inlay.
My burgeoning interest in traditional techniques made me want to build a veneer press, but I couldn't find one I liked until I read "To Make as Perfectly as Possible: Roubo On Marquetry" (Lost Art Press), a translation of the marquetry section of André-Jacob Roubo's 18th-century tome "L'Art du menuisier." The engravings of Plate 280 held the inspiration I needed.
After building several incarnations of this vise, I decided to build a version fairly faithful in scale and dimension – though your primary consideration should be making a press that suits your needs, so adjust the dimensions as required. Roubo blesses this experimentation writing, "These types of vises are of different sizes…and serve for gluing as much for solid wood as for veneer work."
Roubo identifies three components: The "screws," the upright threaded dowels; the "beams," the jaws of the press; and the "frames" that act as nuts, twisting around the screws and tightening the beams together.
I used a length of reclaimed Southern yellow pine for the beams, though hardwoods are also a good choice.
Blog: Read more from Derek Olson.
In our store: Roy Underhill translates (and channels) André-Jacob Roubo while building a folding bookstand for the February 2011 issue (#188).
Video: Watch Christopher Schwarz lay out the joinery for the bookstand.
To buy: A poster of Plate 11 from "L'art du menuisier," suitable for framing.
From the August 2014 issue, #212