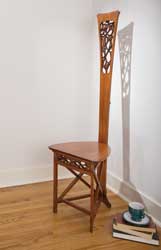 This mahogany Arts & Crafts desk chair exemplifies furniture as art.
by Peter Marcucci
page 46
Most woodworkers are familiar with Arts & Crafts designers William Morris, Gustav Stickley and Charles and Henry Greene. But Charles Rohlfs' inspiring work is a bit less well-known.
Rohlfs, trained as a designer and draftsman, spent his early years designing iron stoves and dabbling in theater. After marrying, he and his wife, novelist Anna Katherine Green, established their home in Buffalo, N.Y.
Like many of us who begin woodworking, Rohlfs couldn't afford to buy quality furniture, so he began to design and build pieces for his home, and later turned it into a profession.
His work displays many common elements of Arts & Crafts furniture, but is set apart by unique design, shapes, artistic ornamentation and carving details. Writers have described Rohlfs' work as artistic, complex, eclectic and eccentric. His furniture is rare and Rohlfs' works are highly valued at auction.
Rohlfs' 1898 desk chair, on which the pierced carvings are said to have been inspired by the cellular structure of oak, is a stunning example of furniture as art. Only four of these are known to exist; one is on display at the Metropolitan Museum of Art in New York. "Antiques Roadshow" estimated in 2006 an original at $80,000 to $100,000.
I've been researching and recreating Rohlfs furniture for years, but as a woodworker, it's a challenge; the few books about Rohlfs have a biographical or art-history focus. I am more interested in how his furniture was made.
Free Plan: Download a free SketchUp model of this project.
Free Plan: Get free plans for a Charles Limbert piece.
Video: Learn more about the 1898 Desk Chair from "Antiques Roadshow."
Article: Read more about Rohlfs in the Pittburgh Post-Gazette.
In our store: Build an iconic Arts & Crafts Morris chair.
From the February 2015 issue, #216