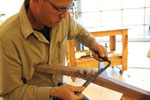 The best source for learning is right there on your bench.
by Brian Boggs
Page 64
Buy this issue now
At a seminar I found myself saying that I mostly taught myself woodworking. It was an easy way to get the idea across that I did not go to woodworking school or take seminars. Later, I regretted not responding more thoughtfully. What a pity I didn't tell the truth. How can I be "self taught" when I have had so many teachers that I can't count them all, and I'm not sure I even knew when I was given a lesson.
Learning happens all the time and comes from sources we don't always recognize. In 1985, I spent time with Dave Sawyer in Vermont. I had heard rave reviews about his mastery with ladderback chairs. Hearing that he had moved on to Windsors did not sway my interest, so I signed on. It was a wonderful time of intensive learning. After hearing me talk about my work and techniques, Dave said, "I can certainly teach you something about efficiency."
Twitter: Follow us on Twitter @pweditors.
From the November 2013 issue, #207
Buy this issue now