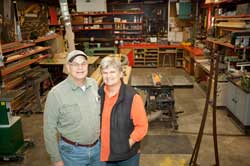 Kite frames to cabinets: A 50-year journey back to woodworking.
By David Lawrence
page 64
Before mom's shop bustled with warmth, woodcraft and cheer, the location of her future endeavors hoarded what dad called, "Relics from the Golden Age of Aviation."
Mom would rebut, smiling, "Maybe just a collection of airplane bones."
But she couldn't have been happier for dad. He was newly retired and set to restore his "relics" in his own golden age. But nearing retirement herself and wanting to stay sharp, mom pined for ventures of her own as well as a place to pursue them. So when dad got the "New Hanger" next door, the family excavated and transported his fossils, providing mom with the "Old Hanger" to fill with her ambitions.
She began asking herself and others, "Before the family and career, what did I want to do?" She had always spoken fondly of childhood summers in her uncle's workshop making wooden cars, boats and kite frames.
"Back then and around here, women were discouraged from going after those skills," she once told me. "But that was something I wanted."
Twitter: Follow Popular Woodworking Magazine on Twitter.
In Our Store: "Ultimate Workshop Solutions" (Popular Woodworking)
From the February 2015 issue, #216