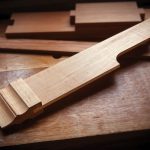 This nearly lost layout tool is surprisingly accurate and useful.
by Christopher Schwarz
pages 48-49
A surprising number of woodworking tools and furniture forms have been lost to time. Some for the better (the motorized coping saw?) and others for no apparent reason.
A lot of my research into early woodworking consists of examining old texts, paintings and drawings. Before the Industrial Revolution, almost everything was made out of wood, and almost everyone's job had something to do with the material. So paintings are a rich source of information.
Several years ago, a fellow researcher named Jeff Burks told me to take a close look at Albrecht Dürer's famous 1514 engraving "Melencolia I," and my life has never been the same. This German engraving has a lot of interesting woodworking stuff in it, including an early straightedge, a now-disappeared fastener called the "clasp nail" and a fantastic try square.
After spotting the square in "Melencolia I," Burks and I turned up similar images of it in dozens of paintings, drawings and sculptures all over Europe, from Sweden to Romania. The form appears quite a lot in the 16th century and disappears in favor of other forms, including the right-angle try square we use today.
Blog: Read more about early try squares.
Web: Read about the crazy theories associated with "Melencolia I."
Plan: Download a SketchUp model of this project from our 3D Warehouse.
To buy: Plans for a Roubo try square.
In our store: "Build a Sawbench with Christopher Schwarz."