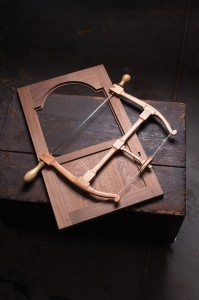 Proper, tapered handle holes make this piece period-correct.
By Willard Anderson
Pages: 44-48
From the November 2011 issue #193
Buy this issue now
The bowsaw is an ancient tool and a member of a class of saws called frame saws, in which tension from the frame is designed to hold the blade taut. Also sometimes called a "turning saw," the bowsaw features a very narrow and thin blade with handles that turn in the frame – that makes it particularly useful for cutting curves and fretwork. Because the blade is attached by means of loose pins that are inserted in holes at each end of the blade, it is easy for a blade to be removed from the frame and slipped through a pilot hole in the stock, then remounted on the frame for cutting.
VIDEO: Windsor chairmaker Michael Dunbar shows you how to use a bowsaw.
VIDEO: Bill has been a repeat guest on Roy Underhill's PBS show "The Woodwright's Shop."
BLOG: Read more about James Howarth and see his trade card.
WEB SITE: Find out about the Mid-West Tool Collectors Association – the world's largest organization of its type.
IN OUR STORE: "Understand and Use a Bowsaw," from October 2010.
From the November 2011 issue #193
Buy this issue now