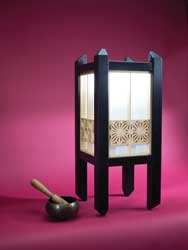 The road to enlightenment is paved with lots of little strips of wood.
by Raney Nelson
page 33
I am not by nature organized or detail-oriented. When I was young, I was the guy with the punk rock blaring and the messed-up clothes; the dog often ate my homework. Even as an adult, attention to detail is not my strong suit.
So it used to puzzle me why, as a craftsman, I'm attracted to detailed, obsessive and small-scale work. You'd think I'd have made a better chainsaw sculptor than infill planemaker.
I now realize my shortcomings are why I gravitate to things that seem out of character – because while I'm making tools and furniture I'm also working on myself. With each project, I improve my patience, my focus and my appreciation for details. And, in the end, making what's difficult is infinitely more satisfying than making what comes easily.
Though I'm still the unkempt guy with the music loud, work like this has made me a better craftsman.
Whether you're looking for spiritual attainment, are interested in taking your hand skills to the next level of precision or need an excuse to use a blowtorch, this Japanese-influenced Andon-style lamp is worth the effort. It combines basic hand and power tools with a few purpose-made jigs – and a lot of attention to detail – to produce a beautiful reminder that patience is the key to wisdom.
Plus, you get to set it on fire. Sweet
Web: Visit the Daed Toolworks web site to see Raney Nelson's infill planes and read his blog
Web: Toshio Odate reflects on his traditional Japanese woodworking apprenticeship
To buy: For more on Japanese latticework, the author recommends Desmond King's "Shoji and Kumiko design: Book 1" and Toshio Odate's "Making Shoji."
In our store: Make a simple "Shoji-Paper Lamp," an article by Christopher Schwarz
From the April 2015 issue, #217