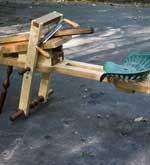 Windsor turnings lend personality; storage drawer adds functionality.
by Willard Anderson
pgs. 50-55
I recently had a roof built over the deck on my shop, so now I have a great place to store lumber (plus I put a rocking chair out there to enjoy the evening air). But what I really wanted was a shaving horse for the deck so that I could work outside while shaping Windsor chair parts.
There were several specific things I wanted from this project:
1. A cooper's-style horse (that is, not the kind with a dumbhead) because I hope to get into coopering a bit
2. Four legs for stability
3. A structure sized to my frame
4. To use some of the lumber stored on the deck
5. To display my turning and joinery skills.
6. Use a really cool cast iron tractor seat I found at a flea market
7. The ability to completely break down the shaving horse into components for easy transport.
The basic design is pretty much as described by Jennie Alexander and Peter Follansbee in their book "Make a Joint Stool from a Tree" (Lost Art Press), but mine – thanks to the storage drawer in the riser and turned pieces – is tricked out a bit more than one might expect for such a folk-style appliance.

Blog: Read more from the author and take a video tour of his workshop at his website.
Class: Take a class with Bill Anderson at the Woodwright's School.
SketchUp model: Download a model of the shaving horse from our SketchUp Warehouse.
In our store: "Joinery Handplanes with Bill Anderson" on DVD or as a download.
To buy: "Choosing, Refurbishing & Using Moulding Place with Bill Anderson" on DVD or as a download.
From the February 2017 issue, #230