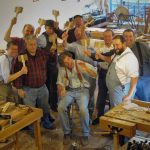 This puzzle mallet is seemingly made by magic.
by Roy Underhill
pages 44-49
From the April 2012 Issue, #196

It can't come apart, but, problem is, it can't go together!
Legend has it that Abraham Lincoln invented this mysterious mallet. The trouble with ordinary mallets, in his time as now, was that they kept "flying off the handle." President Lincoln, having the same problem with his fractious Congress, created this presentation mallet with a head that could never come loose. The handle joins to the head with a central tenon and two shallow dovetails passing up the sides. The taper of the dovetails makes it clear that they can't be retracted. Obviously then, they must have been sprung in from the sides – yet a quick look at their ends shows them dovetailed against that possibility as well! Not only can the head never come off – far worse, it can never go on! So proud of it was Lincoln, that he mentioned it in his second inaugural address, uttering his famous phrase: "With mallets towards none."
Article: Read Roy Underhill's article on cutting a single rising dovetail.
Web site: Take a class with Roy Underhill at The Woodwright's School.
Article: Read woodworking historian Stephen Shepherd's 2001 article on making a puzzle mallet.
Videos: The 2011-2012 season of "The Woodwright's Shop" is now available for online viewing.
In our store: "The Woodwright's Guide: Working Wood with Wedge and Edge."
From the April 2012 issue #196.
Buy the issue now.