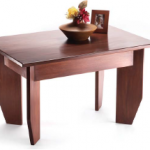 Take the easy way out: Find sizes without measuring.
By Robert Lang
Pages 62-63
This small coffee table is a great introduction to building furniture. It doesn't require much material and it's an opportunity to develop your skills. This project is sturdy, attractive and easy to build. All of the parts come from standard widths of lumber. I used poplar from my local home center, and I made the table from one 6′-long piece of 1×8, one 8′ length of 1×6 and two 8′ lengths of 1×4.
Start by gluing the top from two pieces of 1×8 and one piece of 1×6. If you are cutting the parts from 6′- or 8′-long boards, leave them a couple of inches long, then trim them to the final length after the glue has dried.
The goal during glue-up is to keep the faces of the boards aligned. Use a couple straight strips of wood below for a level work surface and, if you need to, clamp straight pieces across the top and bottom to hold the edges in alignment while the glue dries.